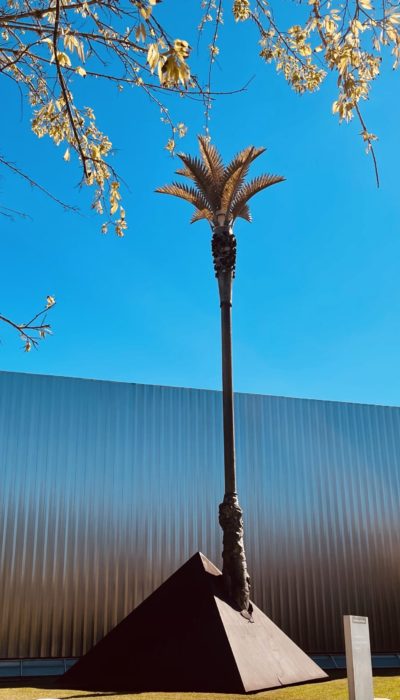 Whats going on in Houston
Frequently Asked Questions?
Where do we meet?
All tours meet and end at different locations. After booking you will receive a detailed email which outlines the meeting location. All meeting locations have access to public transport. Parking is available nearby at your own expense.
Howdy's Downtown Walking Tour- Personage and Birds in front of the JP Morgan Chase Tower.
Howdy's East End Bike Tour- The Beatles statues behind 8th Wonder Brewery.
Your guide will be waiting at the meeting point wearing a blue Howdy H-Town t-shirt and will approach you enthusiastically when you arrive.
What should I wear?
Comfy walking shoes are a must! A hat is strongly recommended in the hotter months. Other than that you can wear whatever you fancy.
Heels are not recommended for any tours as all of them involve a non-trivial amount of walking/riding.
If you are joining us for a bike tour, you must wear enclosed shoes. We provide guests with the option to wear one of our helmets, but if you want to bring your own, feel free to do so.
What should I bring?
We recommend that you bring a bottle of water, along with a camera to capture some special moments! Apart from that, just come equipped with a good attitude and be ready to have fun.
I'm a Houston local, will I enjoy the tour?
Yes! Most of our guests are locals and all of them learn something new about their city. We always get glowing reviews from Houston locals, so if you're a local and aren't sure whether you'll enjoy it, we can confidently say that you will.
What happens if it's raining?
Tours will go ahead even if it's raining, so please bring an umbrella and wear weather-appropriate clothing.
Where should I go after the tour?
After the walking/bike tours, we like to grab a drink with everyone at one of our favorite bars or coffee shops, depending on the time of day. Sit down and join us, continue the great conversations, and get ideas for where to head next.
How far is it? How long are the tours? Is there much walking?
The Downtown Walking Tour is approximately 2.5 hours in duration and 2 miles of walking.
The East End bike tour is approximately 2.5 hours in duration and 6 miles of riding.
Houston is a very flat city so it is easy strolling/riding for the entirety of the tour.
Is the walking tour wheelchair accessible?
Yes, Howdy's Downtown Walking Tour can be adapted to accommodate wheelchairs. Please let us know if you are interested in a wheelchair-friendly tour.
I have elderly people with me, will they be able to come with us on the walking tour?
Yes, the pace is leisurely and the terrain in Houston is mostly flat.
Are children allowed? Can I bring my kids?
Yes, children are allowed on all tours. They must be accompanied by an adult.
How big can my group be?
For all publicly bookable tours, the group size is limited to 20 walking and 10 biking. For private bookings, there is no limit on group sizes. If you have a group of more that 10 people, please contact us and we will make arrangements to accommodate you.
Do you have private tours?
Yes, we do private tours and fully customized tours. Typically the minimum group size is 6 people, but please contact us to confirm.
Can I change the time of a tour? Can I book a tour outside the times listed on the website?
Yes, we are very flexible, please just contact us as early as possible and we will try to accommodate your changes.
Can I cancel my booking? What is your cancellation policy?
If you need to cancel a tour, please contact us. For a full refund, please cancel at least 24 hours before the start of the tour.
Do you have gift vouchers?
Yes! Our gift vouchers can be purchased for a specific tour or for a set amount – what a great present idea for a loved one! Purchase our gift vouchers here.
Do I need to know how to ride a Bike?
Yes! You need to be able to ride independently, keep up with the group, not suitable for children under 10.