Welcome to the most diverse city in the USA—Houston. The flavors, sounds, and visuals of this city provide something for everyone. At Howdy H-Town we love this diversity and welcome people of all ages, abilities, backgrounds, and identities to join our Walking and Biking Tours of Houston. Join "THE BEST TOUR GUIDE IN HOUSTON" today
PUBLIC TOURS AVAILABLE OCTOBER – APRIL
So much fun! So much history in Houston, that I had no clue about. A city of contrasts for sure, can't wait for more tours to open up!
Victoria Necroto
2022-01-31
howdy htown tour was great! I learned so much about this great city! Rory did a fabulous job! He was very knowledgeable, engaging, and enthusiastic. I highly recommend the tour.
Rory is an amazing tour guide, even he is Australian he knows more about the city than other locals, he definitely took the tile to research and find the best spots to walk to in downtown, he ends the tour with a fun bar hopping, his personality is great enough to make sure you dont feel the distance tou have wlked
No idea how an Aussie has managed to learn so much about an American city, but stoked we got the chance to join in on the walking tour! Rory will blow you away with his awesome and super fun tour around Houston. Easily the highlight of my visit to the city!
I had an awesome time on the Howdy H-Town downtown walking tour 🙂 Rory was a fantastic guide. He is full of knowledge and I learnt so much about Houston on this city tour and discovered so many hidden gems. We finished the tour with a beautiful sunset overlooking the city and this was incredible. I would definitely recommend this tour for anyone interested in learning about Houston 🙂 Thank you Rory ! 5 Stars 🙂
Amazing tour!! Rory is a fantastic host!! Learned so much while walking around such a beautiful city. A must for anyone into architecture.
Howdy H Town provided an amazing tour from start to finish. It was incredible to see how much Rory knew about the city, its history, and the important figures that help build Houston to what it is today! We learned plenty of local spots to to stop by for food, drinks, and sightseeing that we'll definitely check out. Looking forward to discovering more about this city.
I've lived in Houston my whole life and still learned so much from Rory! Funny, engaging and super knowledgeable about this amazing city we call H-town. Do yourself a favor and sign up! You won't regret it.
Best tour
A phenomenal experience my partner and I had with howdy h town tours. Rorys expert advice mixed with a professional but fun tour, made this experience the highlight of our short time visiting Houston. HIGHLY RECOMMEND!!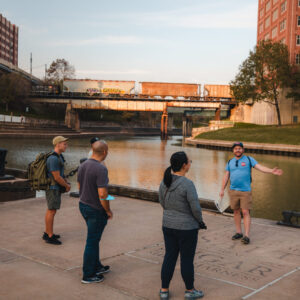 2 HRS / 2 Miles / $30
There is no better way to get to know Downtown than walking between the skyscrapers. Discover everything from history and architecture to street art and small bars while exploring the city's heritage precinct and theatre district.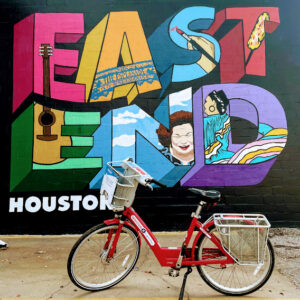 2 HRS / 6 Miles / $40
Street art, cafes, dive bars, and microbrews—this up-and-coming neighborhood is steeped in history. As you cycle through diverse landscape our guides will connect its storied past with where it is today and the massive changes that are still to come.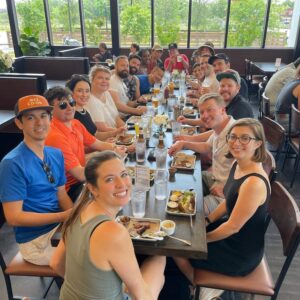 3.5 HRS / 2 Miles / 5 Venues / $90
Taste some of Houston's many flavors as your guide takes you to five delicious venues. Through food, art and history you will see how EADO has evolved from Houston's original Chinatown into one of the fastest growing neighborhoods in the country.
If you would like to know more about any of our tours or other experiences, please contact us and we will be happy to help!